<![endif]-->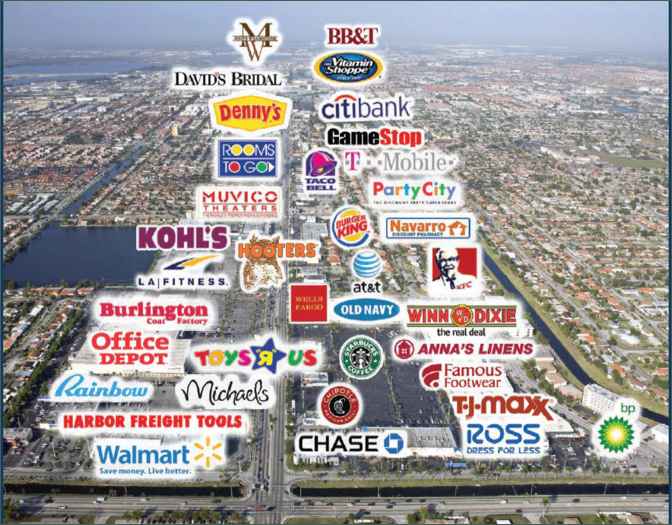 Palm Springs Mile
West 49th Street


Hialeah

, FL

33012




Palm Springs Mile is located in the heart of Hialeah. This suburb of Miami has a tremendous demographic profile with some of the highest population densities in South Florida. Households for the immediate one mile radius are approximately 35,000.

The property stretches one mile in distance on both sides of the main corridor of Hialeah - West 49 Street, from its easterly boundary of West 4th Avenue / Red Road to its westerly boundary of West 12th Avenue / Ludlam Road.

Palm Springs Mile has an onsite management and leasing team with offices located at 419 West 49 Street. Palm Springs Mile is a Philips International development - a premier leader and innovator in the real estate industry with a company portfolio consisting of over 200 holdings along the eastern U.S. from New York to Florida.
Demographics
| | 1 Mile | 3 Mile | 5 Mile |
| --- | --- | --- | --- |
| Population | 34,806 | 229,811 | 437,281 |
| Households | 10,588 | 71,895 | 137,144 |
| Avg HH Income ($) | 43,305 | 40,222 | 42,907 |
| Med HH Income ($) | 48,712 | 44,686 | 48,361 |
Highlights
For Lease
County: Miami-Dade
Type: Retail

Contact
Benjamin M. Brody
419 West 49th Street, Suite 300
Hialeah, FL 33012
p. 305-755-3949

Printable Version
Palm Springs Mile - Flyer
Palm Springs Mile
| | |
| --- | --- |
| Available | Coming Available |
Available Spaces
| | | | | | |
| --- | --- | --- | --- | --- | --- |
| 407-1 | 3,050 SF | | 500-J | 8,000 SF | |
| 821 | 5,011 SF | | 1140 | 2,300 SF | |
| 1165-107 | 2,204 SF | | 1165-204 | 1,058 SF | |
| | |
| --- | --- |
| | Deals |
| 400 | Neighborhood Walmart |
| 401 | Chase Bank |
| 405 | Chipotle Mexican Grill |
| 407-2 | Bath & Body Works |
| 407-3 | Osh Kosh |
| 407-4 | Carters |
| 410 | Harbor Freight Tools |
| 410-7 | Cici's Pizza |
| 415 | Preferred Care Medical Center |
| 419-101 | Caribe Express |
| 419-102 | Adult Daycare |
| 419-103 | Adult Daycare |
| 419-104 | Westaff |
| 419-105 | Westaff |
| 419-106 | Pedro Realty |
| 419-108 | Bella Flowers |
| 419-109 | Univista Insurance |
| 419-110 | Bliss Beauty Salon |
| 419-111 | Accountant |
| 419-200 | Homed Care |
| 419-203 | Theodore Z. Deutsch PA |
| 419-206 | Florida Business Bureau |
| 419-207 | Securitas |
| 419-208 | Alberto Garces CPA |
| 419-209 | Freire & Gonzalez PA |
| 419-210 | Positive Behavior Supports |
| 419-212 | Positive Behavior Supports |
| 419-213 | Positive Behavior Supports |
| 419-214 | KJW Enterprises |
| 419-215 | Relief Management |
| 419-216 | Relief Management |
| 419-217 | Fast & Easy Accounting |
| 419-218 | Psycologist |
| 419-219 | PF 2 Hialeah |
| 419-220 | Quick Computer Services |
| 419-300 | Palm Springs Mile Mgmt Office |
| 420 | Beauty Salon |
| 440 | Humana Health Care |
| 448 | Medical Diagnostics |
| 449 | Ross Stores |
| 452 | Associates Rehab |
| 460 | Compassionate Care Hospice |
| 464 | Compassionate Care Hospice |
| 468 | Baby Food Center |
| 469 | Worth It |
| 470-A | MCCI |
| 470-B | Daycare |
| 472 | Medical Diagnostics |
| 479 | Kirklands |
| 495 | Payless Shoes |
| 499 | T.J. Maxx |
| 500 | Toys "R" Us |
| 500-B1 | Michaels |
| 500-B2 | Michael's 2nd Flr |
| 500-L | Novelle Beauty School |
| 500-Y | Dance School |
| 501 | Jembro |
| 502-A1 | Planet Fitness |
| 502-A2 | Planet Fitness |
| 502-B | Rainbow |
| 502-C | Madrag |
| 505 | Famous Footwear |
| 509 | Value Pawn |
| 511 | Orange Fashion |
| 514 | Citrus Health |
| 515 | Anna's Linens |
| 515-A | Am Best |
| 515-B | Galeria |
| 520 | Office Depot |
| 520-1 | Harkin Health |
| 526 | PF Hialeah 2 |
| 530 | ASA College |
| 541 | Winn-Dixie |
| 557 | Avon Beauty Center |
| 559 | Nail Salon |
| 561 | Sally Beauty |
| 563 | Epel's Rad Jewelry |
| 575 | Clothes Time |
| 581 | Wells Fargo |
| 583 | Starbucks |
| 585 | Rainbow |
| 585-A | Don Pan |
| 585-B | Footlocker |
| 587 | GNC |
| 589 | European Wax Center |
| 590 | Burlington Coat Factory |
| 591 | Optiprofessional |
| 595 | FedEx/Kinko's |
| 597 | AT&T Spring Communications |
| 599 | Old Navy |
| 620 | Vision Works |
| 630 | LA Fitness |
| 635 | Metro PCS |
| 637 | Terrabank |
| 663 | AT&T |
| 667 | T-Mobile |
| 675 | Milagro's Jewelry |
| 680 | Hooters |
| 681 | Smoothie King |
| 683 | Fajas y Mas |
| 691 | Cantina Fresh |
| 695 | Shoe Time |
| 700 | Department Store |
| 701 | Chicken Kitchen Latino |
| 730 | Advance America |
| 732 | Salon 49 |
| 734 | Tanning Spa |
| 736 | Nutrition Store |
| 738 | Western Wear |
| 742 | Dentist |
| 744 | Nails |
| 746 | Barber |
| 748 | Cafe |
| 750-C | Rooms To Go Furniture |
| 750-H | Champs |
| 775-1 | Navarro Discount Pharmacy |
| 775-2 | Party City |
| 775-3 | Discovery Clothing |
| 775-6 | Subway |
| 780 | Muvico 14 Screens |
| 790 | Ocean Bank |
| 795-A | Banesco |
| 795-B | Check Cashing USA |
| 811 | Kentucky Fried Chicken |
| 831 | Taco Shop |
| 835 | Trigo Cafe |
| 839 | Trigo Cafe |
| 865 | Bernardo Garcia |
| 885 | Amscot |
| 891 | Burger King |
| 915 | RiteCare Medical |
| 960 | Nextel |
| 1000 | Denny's |
| 1001 | Beauty Schools of America |
| 1001-1 | Boston Market |
| 1001-2A | Alex A. Hanna |
| 1001-2B | Lucy 7 |
| 1001-4 | Mattress 1 |
| 1001-5 | Silk Hair & Nails |
| 1001-6 | Sprint |
| 1001-7 | GameStop |
| 1001-8 | Blue Cross Blue Sheild |
| 1001-9 | Citibank |
| 1030 | Happy Fiesta |
| 1040 | Rent A Center |
| 1050 | Post Office |
| 1060 | Beauty Schools of America |
| 1075 | Taco Bell |
| 1090 | David's Bridal |
| 1096 | Bella Quinces |
| 1100 | Beauty Schools of America |
| 1110 | Invitations Plus |
| 1116 | One Main Financial |
| 1120 | Space Coast Credit Union |
| 1138 | Metro PCS |
| 1150 | Karol Beauty Supply & Salon Suites |
| 1165-101 | Dunkin Donuts |
| 1165-102 | Vapor Passion |
| 1165-103 | T-Mobile Simply Prepaid |
| 1165-104 | Aquariums |
| 1165-105 | Clary's Beauty Salon |
| 1165-106 | Sushi Sake |
| 1165-201 | County of Fade Barber Shop |
| 1165-202 | The Ticket Clinic |
| 1165-203 | Zentistry Dental Corp |
| 1165-205 | On Point Dance Supply |
| 1165-206 | Insuring You |
| 1165-208 | Juventus |
| 1165-209 | 411TAXES.COM |
| 1165-210 | Zen Spa |
| 1170 | LA Ideal Childrens Furniture |
| 1190 | The Men's Warehouse |
| 1192 | Latin Cafe 2000 |
| 1193 | Pediatric Associates |
| 1195 | Vitamin Shoppe |
| 1197 | Cuballama |
| 4801 | Haze Hookah Cafe |
| 4951 | Progressive Insurance |
| 4955 | Barber Shop |
| 4959 | CosmoProf |
| 4963 | Dentist |
| 4967 | Adult Daycare |
| 4975 | Tutoring Center |
| 4975 W12AVE | La Granja |
| 5011 | Cora Rehab |
| 5031 | Day Care |
| 5090 | Valero Gas |
Palm Springs Mile